Services
Andreas Ferronato is a multifaceted artist who can move an audience to wild dance and ecstasy, to tears, laughter and afterthought. With an impressive experience as a saxophonist, DJ, bandleader and showman combined with an intense stage presence Andreas will leave no one unmoved.
Intensity:
High
If you are arranging a party, an event, if you're a club owner, soon to be married or launching your birthday celebration you've found your artist – Andreas Ferronato is a master of taking your party to not only the next level, but many levels after that! Let Andreas come to your party and move you to the late night hours – this is a unique act that you will be very late to forget.
Andreas comes as a combined or separate DJ/saxophone act, with his liveband or coupled with another DJ of his or your choice. We guarantee that your party will be an utmost success!
Intensity:
Lower
If you're arranging a gala, a mingle party, own a restaurant or seek an exclusive lounge experience Andreas is also your perfect find. Andreas has a subtle intuition and musical finesse that is extraordinary and is perfect for the low tempo event. This is a luxurious way of treating your guests to something extra, and also a great way to start an event that grows in intensity later at night!
Once again you can hire Andreas as a combined DJ and saxophonist, with his fellow musicians or another DJ of your or his choice. We guarantee that Andreas performance and the atmosphere of your event will be qualitative, luxurious and on point!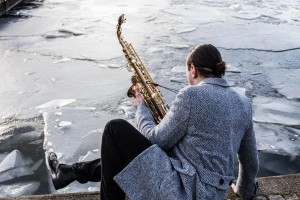 Studio/Guest performance
Andreas is doing regular collaborations and guest performances with other artist, both on stage and in the studio. He has worked with national and international artists such as Robert Wells, Matt Joko, Nelsaan, EsQuille, Alberto Canas, Tim Henri, Emma Persson, Calle Hammar (Houston), Rabih Jaber and Evelina Olsén. If you are interested in working with Andreas – please, let us know!